Apr 15, 2021 06:04 PM Central
Claudette Ross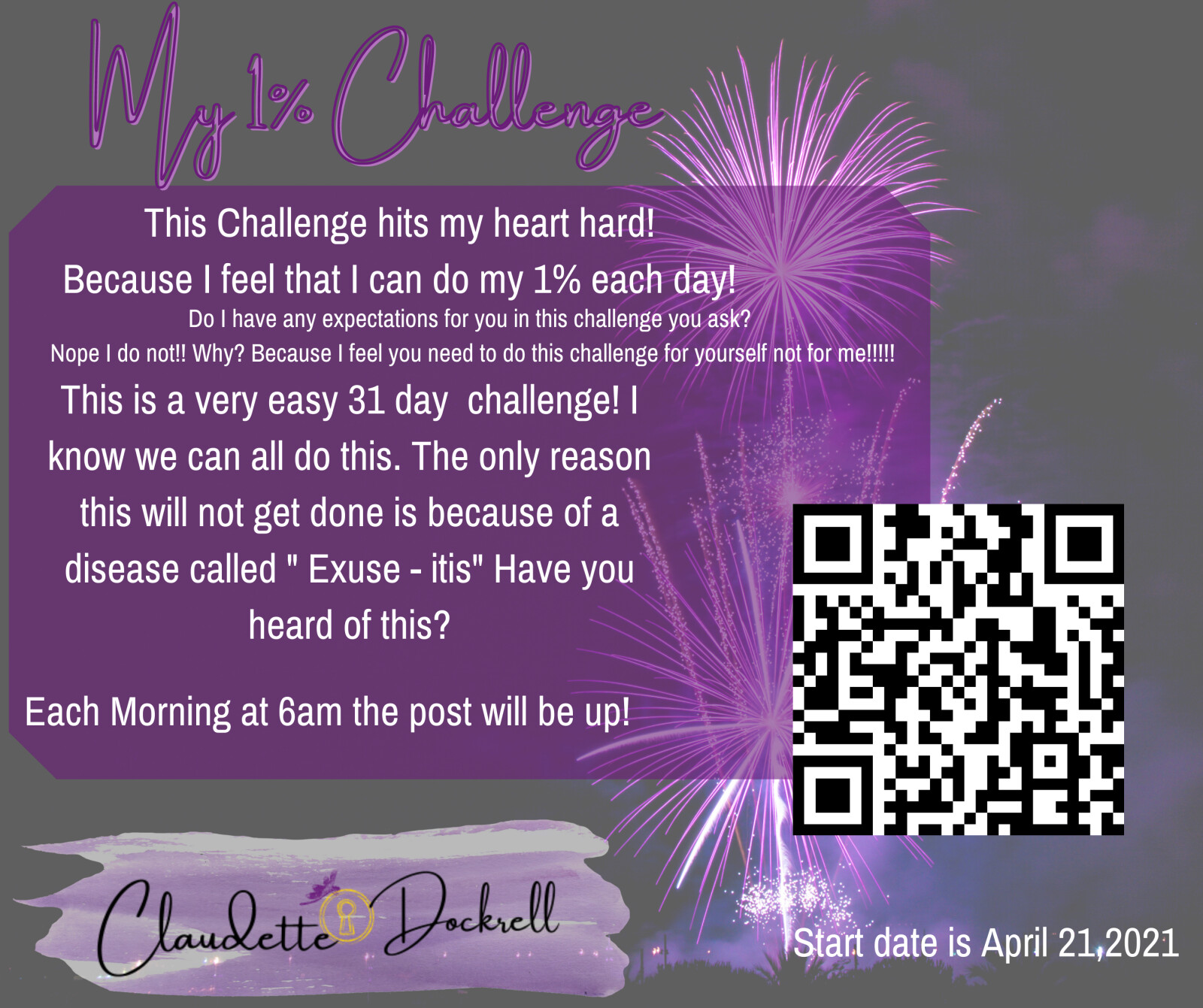 Yesterday I announced my FREE challenge that will be happening starting April 21, 2021!! for 31 days!! The ladies are SO excited for this challenge!! I am excited for this!!!! I would love for anyone to take this challenge.
Here are the Conditions!!
You're doing this for yourself!
Your doing this so you can accomplish your 1%
You're doing this so you can say you completed a 31 day challenge for yourself and no one else!!
This challenge is easy and I will be doing it too!!
I know we all have full lives however when we make the smallest changes in our lives , those smallest changes can make the biggest changes!!
Would you like to participate in this challenge?
I will be posted over here in my community!!
From Grace & Tenderness to Fierce & Fearless
LET'S DO THIS!!!!
The Lord is doing such great work in my heart! I came up with the 1% in my heart a few months back. I had started to declutter my home and I felt that I was doing my 1%. Then a few days ago I really felt that I would do the #75hard challenge. SO I did my Anointed to soar emotional work that I needed to do to prepare my mind for this hard challenge. So on Tuesday I was ready with guns blazin! So I actually walked for an hour when for the challenge it is 2- 45 min workouts and they cannot be together! I had to drink 1 gallon of water, 10 mins of meditation, follow a diet and read 10 pages of a non-fiction book daily for 75 days and if I failed I had to start from Day !
SO I was prepared! I was doing this!! Well by tuesday afternoon with all the things I had to do I was so drained! I was SO tired!! Then I started to beat myself up because I felt I had failed! Or did I fail!
Actually I did NOT fail!! I failed forward! I decided that I would not give up and I will do better the next day and not set such high expectations for myself!
SO the next day I actually fit in 2 walks! I have shin splints LOL that I am nursing back to being better.
Each time I walk I say " I AM DOING THIS FOR ME, I am doing my 1%!!!!" I know that I will reach my goal!
Have you ever felt that you set to high an expectation on yourself? I am sure I am not the only one!