Dec 3, 2021 04:30 PM Central
Claudette Ross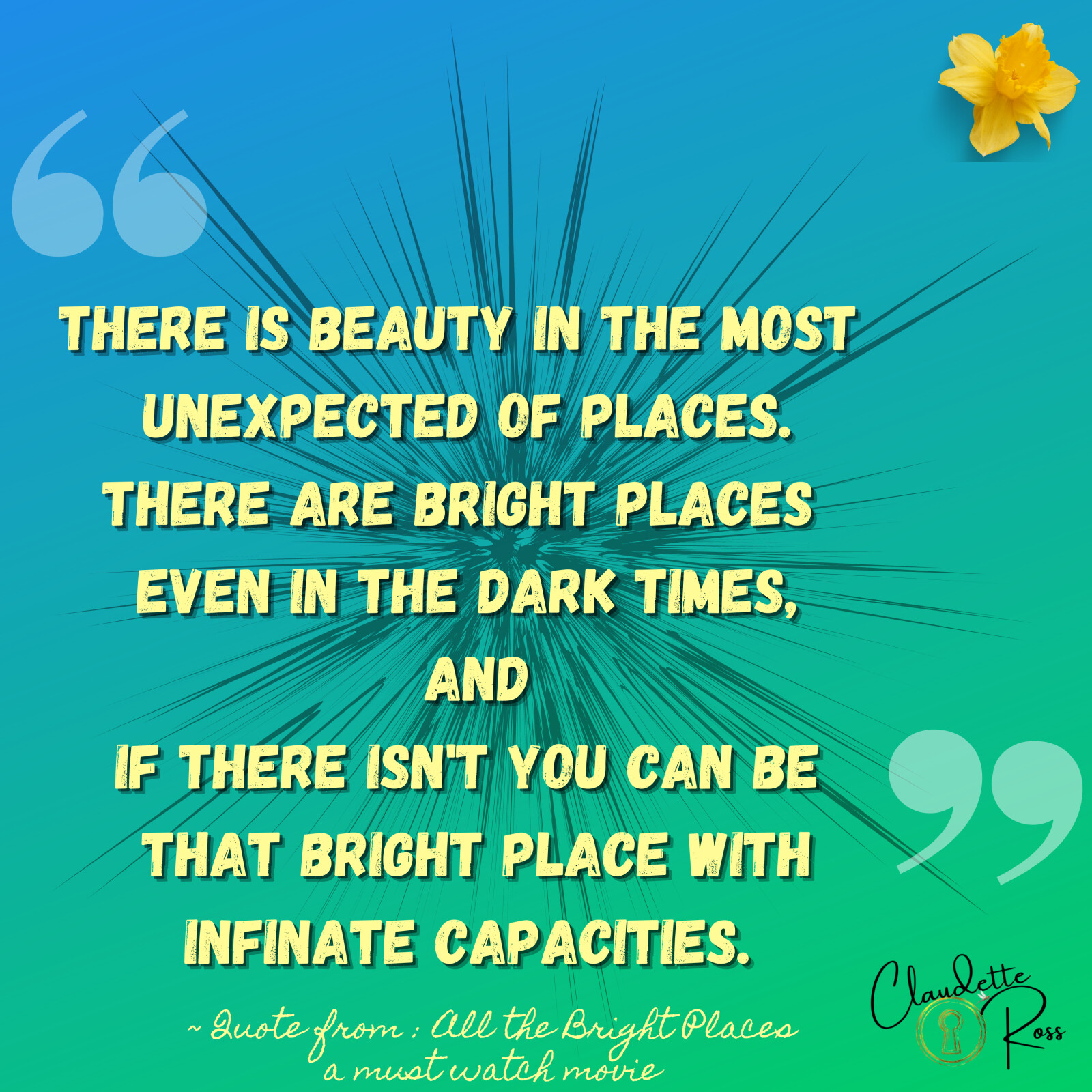 YES YOU ... HERE IS A QUESTION TO PONDER...


ARE YOU HAPPY?

ARE YOU REALLY HAPPY?

.... WHAT WAS YOUR FIRST THOUGHT? OF COURSE I AM REALLY HAPPY.. IS THAT THE TRUTH?
DO YOU EVER WONDER WHAT LIFE IS ALL ABOUT? WHY ARE WE HERE?

WHAT IS YOUR PURPOSE?
WHAT HAPPENS TODAY IS THAT GOING TO MATTER NEXT WEEK? NEXT MONTH? NEXT YEAR?
YES AND NO DEPENDING ON WHAT IT IS.
THE OTHER DAY I STARTED WATCHING A MOVIE ON NETFLIX CALLED "

ALL THE BRIGHT PLACES

" I REALLY HAD NO IDEA WHAT I WAS WATCHING AT FIRST. THEN AS THE MOVIE WENT ON IT BEGAN TO MAKE SENSE.
I AM A VERY HAPPY PERSON... FOR REAL HOWEVER SOME DAYS CAN BE HARD.. EVEN WHEN I FEEL ON TOP OF THE WORLD. OUT THERE SAVING EVERYONE LOL.. THATS HOW I FEEL SOMEDAYS. SO I AM GETTING REAL RIGHT NOW. LIKE RIGHT NOW WITH YOU WORLD. WITH WHOEVER HAS TAKEN THE TIME TO READ THIS DOWN TO HERE RIGHT NOW.
THIS IS WHY I AM PUTTING THIS IN A BLOG BECAUSE SOMETIMES WHEN THERE IS A LONGER BLOG PEOPLE DO NOT READ IT THEY JUST SKIM AND MOVE ON. KINDA LIKE SKIMMING CHANNELS AND THEN MOVE ON. WELL I AM BEING REAL RIGHT NOW RIGHT NOW. I AM SPEAKING FROM MY HEART.
THIS MOVIE TOUCHED MY HEART. THERE ARE PEOPLE IN MY LIFE RIGHT NOW THAT ARE SO IMPORTANT TO ME AND I AM TAKING THE TIME TO REALLY LISTEN TO WHAT IS ON THE HEART. WHAT IS REALLY ON THE HEART? WHAT IS THE HEART OF THE MATTER?
DO YOU REALLY LISTEN TO WHAT YOUR FAMILY AND FRIENDS ARE REALLY SAYING TO YOU?
DOES THIS POST SEEM SCATTERED TO YOU? HA HA.. Maybe it is .. maybe its not. These are my thoughts.
I LOVE LIVING LIFE BIG! I GET EXCITED WHEN I PUT MY FEET ON THE BEACH IN NOVEMBER , I GET EXCITED WHEN THE WAVES ARE BIGGER THEN LIFE. I GET EXCITED WHEN THE CLOUDS ARE OUT AND I CAN SEE THINGS OTHERS CANNOT. THIS IS ME.. THIS IS WHO I AM . So much more!!!!! Just get to know me and you will see....



THERE ARE SO MANY PEOPLE WHO HIDE BEHIND FB LAND.

I

TS ALL A FACADE

MOST DAYS FOR PEOPLE IN SOCIAL MEDIA LAND. A LOT OF PEOPLE LIVE BEHIND CLOSED DOORS YOU HAVE NO IDEA WHAT IS GOING ON . THEY PUT ON A FALSE FACE ON SOCIAL MEDIA. SO IT'S SO IMPORTANT FOR ALL OF US TO JUST BE KIND AND IN THOSE DARK PLACES BE THE LIGHT!!
What can I help you with? I am a prayer warrior who prays for others each and every day.
Do you dream? TIP: Keep a journal and pen close- write those dreams down.
Would you like to chat? I have a listening ear.